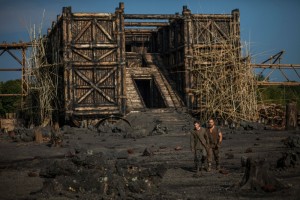 Russell Crowe wishes The Pope to see Noah
Russell Crowe, popular Hollywood actor has launched a campaign on Twitter to arrange a screening of the new movie Noah for The Pope. He has urged fans to repost his messages.
Russell plays the lead in the movie acting as the biblical Noah. The movie is a mega budget film directed by the famous Darren Aronofsky.
In his twitter account, Russell tweeted, "Holy Father @Pontifex , it would be my deepest pleasure to bring the @DarrenAronofsky film to you to screen. That this may happen Inshallah". He had also tweeted, "Dear Holy Father @Pontifex , Sorry that I have caused havoc in your social media world. Seriously though, #Noah the movie will fascinate you" and "Villagers,given his environmental focus/scholarly knowledge ,trying to screen #Noah for Pope Francis. @Pontifex You help? retweet previous".