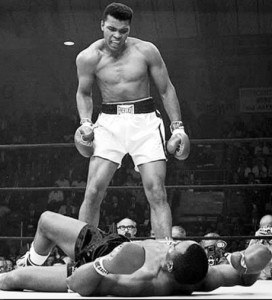 Muhammed Ali born Cassius Marcellus Clay, Jr., was raised as Baptists even though his father Cassius Marcelus Clay Sr. was a Methodist.
However, in later years, while growing up, Ali developed a massive anger for the White Community and their racial discrimination against Black community. He felt the black community was oppressed and suppressed by whites and their religion.
He later met Malcolm X in 1962 whom he he was largely impressed with his teachings and beliefs on Black Supremecy. He felt renouncing Whites and their religion would justify the injustice on the black community. Malcolm X who had gone through similar oppression had been in prison for commiting series of bulgaries targetting wealthy white families. While in prison. Malcolm became a staunch follower of Nation of Islam. This group believed that:
black people are the original people of the world.
white people are "devils".
blacks are superior to whites.
the demise of the white race is imminent.
Muhammed was inspired by Malcoms teachings and the beliefs of "Nation of Islam" and finally converted to Islam. He kept his faith a secret in fear that he will never get a shot at the championships. His conversion was largely a political move. His hatred towards the white community is said to be the prime reason why he refused to be conscripted into the U.S. military